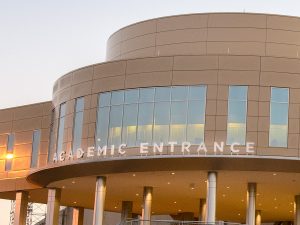 The UConn Health main building, located on the Upper Campus, is home to the UConn John Dempsey Hospital, University Dentists, the UConn School of Medicine and School of Dental Medicine, a division of The Graduate School, and a thriving research enterprise. The public may access the building through the Main Building entrance while UConn Health faculty, staff and students can use the Academic Entrance. Our main suite of offices are in Building L, closest to the academic entrance, on the 5th Floor in Suite L5062.
Driving Directions
From the UConn Health main campus entrance at 263 Farmington Avenue, Farmington, Connecticut follow UConn Health Blvd to the roundabout and take the second exit, following signs for the hospital. At the first stop sign, stay to your left and continue up the hill to our Upper Campus. At the third stop sign, go straight to the Main Building at 300 UConn Health Boulevard.
Parking
Free parking is available in lots M1, M2, and H1. Paid parking is also available in Garage 3. If you park in the garage, visitors should take their parking ticket with them and pay to exit at the pay-on-foot stations or exit gates located in Garage 3 next to the elevator and stairwell directly across from the Main Building entrance. Cash, debit and credit cards are accepted at pay-on-foot stations. Debit and credit cards are accepted at the exit gates.
Our Office
The Office of the Vice President for Research is located in the L Building on the 5th Floor in Suite L5062. The closest elevators are the Academic or Laboratory Elevators. A UConn Health badge is required to access the 5th floor. If you are a visitor meeting with a member of our office, please make arrangements in advance with the staff member to escort you up to our suite.
From the Academic Elevators, turn left off the elevators and then right at the conference room in front of you. Suite L5062 is the second door down the hall on the right.
From the Laboratory Elevators, exit straight off the elevator. Turn right in the main hallway. Suite L5062 is down the hall on the left.