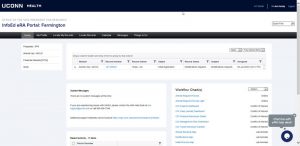 The UConn Health InfoEd is an enterprise-level, web-based application designed to manage all activities related to the management and execution of the research  project life cycle – from cradle to grave. The system comprises a suite of modules, each designed to manage a specific aspect of the research project cycle. These include: proposal development and submission to the funding entity during the pre-award phase (Proposal Development – PD) ; proposal tracking and management in the post-award phase (Proposal Tracking – PT); human research protocol application management (Human Subjects Management – HSM); lab animal protocol application management (Lab Animals Management – LAM); environmental safety management (Environmental Safety Management – ESM); intellectual property management (Technology Transfer – TT); and clinical trial management, case report form (CRF) design, and scientific data collection and management (Clinical Trials Management – CTM).  Modules currently installed at UConn Health include:
Proposal Tracking (PT) – This module acts as a central clearinghouse of both pre- and post-award information. It provides a single reference point for tracking all details related to proposals including: budgets, subcontracts, approvals, technical reports, and all associated communications.
Financial Conflict of Interests – This module provides researchers with the ability to complete and submit researcher and staff financial interest disclosures electronically. It allows Research Compliance Services staff to track and manage conflicts of interest, establish management plans, and fulfill our policy requirements. The module interfaces with proposals and human subjects. These materials include how-to instructions for UConn  Health. Consult the FCOI website at UConn Storrs for the UConn Storrs and Regional Campuses FCOI how-to materials.
Lab Animal Use / IACUC Module – This module is designed to support the review and management of animal research protocols.
Tech Transfer (TT) – This module is used to manage administrative data relating to intellectual property and tracks inventors, patents, key dates, contacts, agreements, documents and communications, and financial information tied to expenses and royalties.
SPIN (Sponsored Programs Information Network) – SPIN is a searchable database that provides real-time access to current research funding opportunities. All data in SPIN is obtained directly from the sponsoring agencies themselves to ensure authenticity. To use SPIN, login to InfoEd and then choose Find Funding link at the top of the page.
SMARTS (SPIN Matching And Research Transmittal Service) – SMARTS is an automated system that periodically queries the SPIN database and sends notifications to investigators regarding available funding opportunities in their field of study.