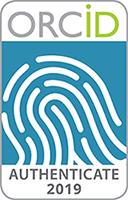 The InfoEd eRA Portal is integrated with ORCID®. ORCID iDs are unique identifiers assigned to individual scholars and researchers. ORCID provides a persistent identifier – an ORCID iD – that distinguishes you from other researchers and a mechanism for linking your research outputs and activities to your iD. Using an ORCID allows your manuscripts, grants, and other scholarship to be more discoverable and integrated within larger research networks. Faculty, staff and students at the University of Connecticut

can authenticate and display their ORCID iD along side their name on their InfoEd Genius profile. The InfoEd-ORCID was the first ORCID iD integration at the University of Connecticut and was completed in August, 2019. In November, 2019 InfoEd UConn Health and ORCID integration went live.
Connect
From your UConn Health InfoEd profile, click the "Connect Your ORCiD ID" link to begin the Authentication process. If you already have an ORCID, enter your Email or ORCID iD and ORCID password, and then click sign into ORCID button to login with your ORCID account. You may sign in through a personal or Instititonal account using your UConn NetID. If you do not have an ORCID, click Register now to create one, provide the necessary information, and submit the registration form.
Authenticate
When you click the "Authorize" button, we ask you to share your iD using an authenticated process: either by registering for an ORCID iD or, if you already have one, to sign into your ORCID account. We do this to ensure you are correctly identified in our electronic Research Administration systems and are securely connecting your own unique ORCID iD.
Display
To acknowledge that you have used your iD and that it has been authenticated, we display the ORCID iD icon

alongside your name in your InfoEd Genius profile and provide a link to your ORCiD profile from within the InfoEd eRA Portal.
Contact
If you need help with connecting your ORCID iD to your InfoEd profile, email era-support@uconn.edu or call 860-486-7944.
If you have questions about getting an ORCID, how it will be used by the University of Connecticut, or any other related questions, please contact Carolyn.Mills@uconn.edu at UConn Libraries.